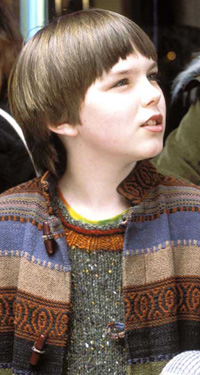 MATTHEW ALEXANDER BENNETT
Full Name:
Matthew Alexander Bennett
Gender:
Male
Birthday:
December 25, 2018
Age:
11
Blood:
Halfblood
Nationality:
British
Family:
Maxwell Bennett - Father - 40 years old - Auror
Laurie Bennett - Mother - 36 years old - Writer/Journalist (Muggle)
Oliver Bennett - Brother - 13 years old - Student (Wizard)
Thomas Bennett - Grandfather - Deceased  - Former Unspeakable
Emma Bennett (nee Johnson) - Grandmother - 59 years old - Former Hogwarts Teacher, now an adventurer
History:
Matthew Bennett was born on Christmas in the year 2018 as the second child of Maxwell and Laurie Bennett, when his brother Oliver was two years old. Since the brothers were somewhat close in age, they grew up spending a lot of time together, and treated each other as friends. Most of their time was spent joking around with each other. While both Oliver and Matthew were adventurous children, Oliver was more the type to discover things based on trial and error. For example, when he stuck his finger in the fan and discovered that it hurt. Matthew, on the other hand, preferred to observe his brother's actions and learn from his mistakes.
Matthew was a halfblood, and was able to experience the best - and worst - of both worlds throughout his childhood, with his father being a wizard and his mother being a muggle journalist. Of course, Matthew knew that he would attend Hogwarts someday because of his magical blood, but that didn't prevent him from being jealous the first time that his brother displayed magical abilities. Matthew was happy for Ollie, but didn't like that his brother had something that he didn't. It didn't help that Ollie had displayed his magic by turning Matthew's hair green.
Matthew had to wait longer than his brother to see his magical talents put to action. When he was nine years old, Ollie went off to Hogwarts. Matthew had never been separated from his brother before, and was both sad and jealous that he was leaving. As the train was pulling away, Matthew accidentally set a woman's scarf on fire, right on the platform! Luckily, she wasn't hurt, and it made the separation from his brother a little more bearable. The moment he got home, Matthew sent an owl to Ollie letting him know all about it! Then, for two whole years, Matthew waited eagerly to receive his Hogwarts letter himself. He couldn't stand spending another year at home by himself while Ollie was off doing magic and having fun. And finally, after the longest wait ever, it arrived! And Matthew was ecstatic to finally be heading off to Hogwarts!
Appearance:
Matthew's features are very similar to his brother, in that he has a pale complexion and bright, piercing blue eyes. His hair is a dark brown, almost black even in color. He's not quite as thin as Oliver, but shares a similar stature to him. However, Matthew is average height for his age, while Oliver is slightly on the shorter side. Already, he is starting to catch up to his brother in height even though Ollie is two years his elder.
Personality:
Matthew is a young boy who likes to have a good laugh. He has a great sense of humor, and is rather quick witted when it comes to having a joke or two with others - especially with his brother. However, while his brother is very outgoing and willing to approach just about anyone, Matthew has a quieter, more focused persona. He thinks about things before acting, and before speaking, and prefers to be approached rather than to approach others. He isn't necessarily shy, and isn't afraid to ask questions of others or join in conversation, and is pretty easy to talk to. But he would never be the type to volunteer for a demonstration in class, or to just start talking to others for no reason.
Matthew is a very determined person, and tends to put a lot of effort into achieving his goals, once he's set them for himself. He rarely admits defeat, and puts a lot of importance into coming out on top. He also becomes jealous rather easily - of course, he can be happy for others when they are doing well, as long as he's doing just as well or better. He likes to spend time with Oliver, and gets angry when others take his brother's attention away from him. He's very loyal to those who gain his friendship, and can be trusted to keep a secret or help a friend in a time of need.
I will not. But I WILL add that I am aware that I have too many male characters. But Jack doesn't really count, I can't RP girls, we need more male characters, and LUCY NEEDED SOMEBODY TO PLAY MATTHEW BECAUSE POOR OLIVER NEEDS HIS BROTHER!!!!! So, I'm hoping this is okay